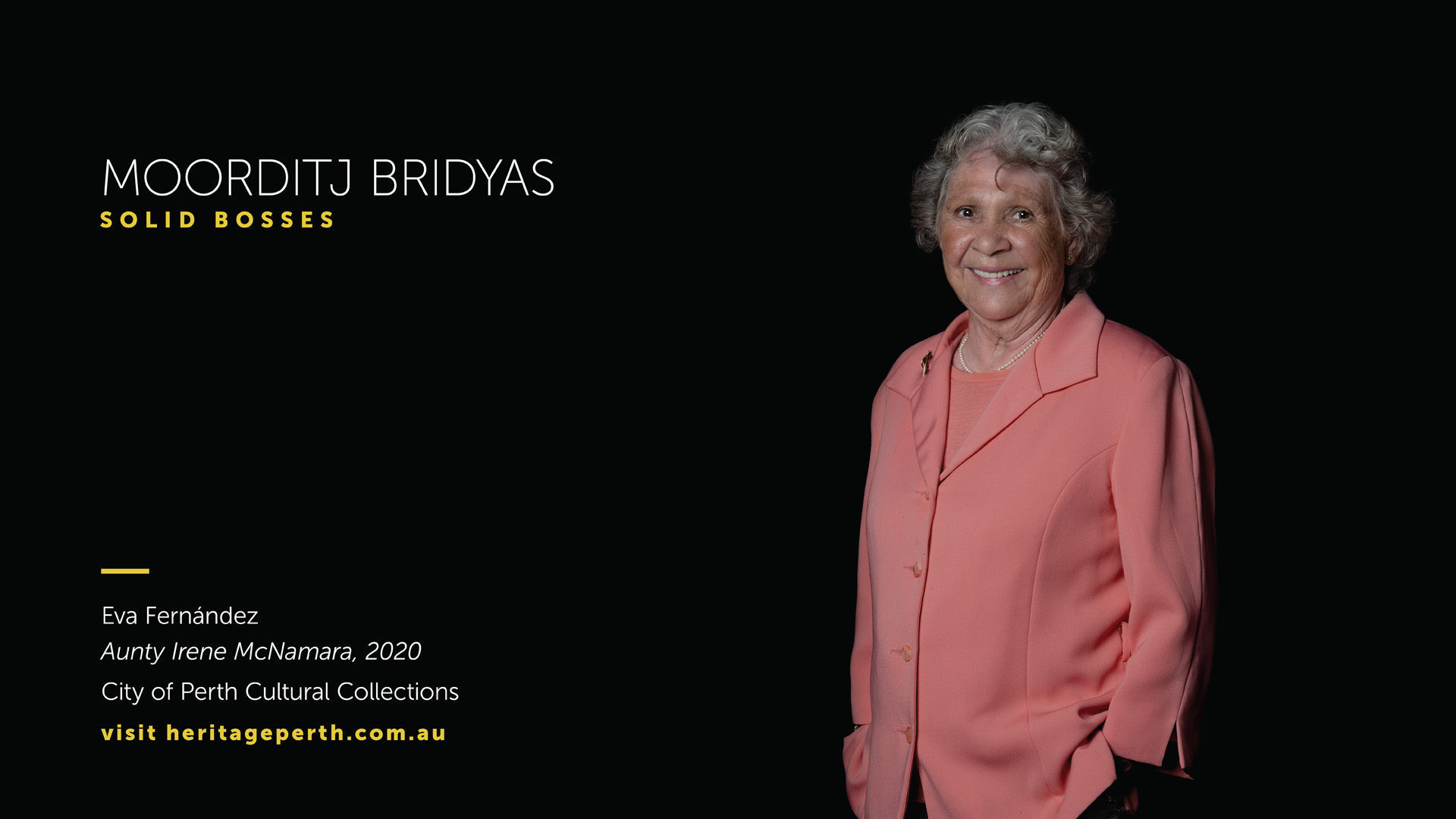 Photography by Eva Fernandez
A photographic commission honouring the City of Perth Elders Advisory Group – the Bridyas (the bosses)
The Elders Advisory Group formed in 2018 and brings together ten respected Whadjuk Nyoongar community leaders to guide the City's reconciliation journey:
Aunty Theresa Walley, Aunty Doolan Eatts, Uncle Ben Taylor, Aunty Margaret Culbong, Aunty Muriel Bowie, Uncle Walter Eatts, Uncle Farley Garlett, Aunty Irene McNamara, Uncle Albert McNamara, Uncle Noel Nannup.
As part of the oldest living culture in the world, Whadjuk Nyoongar culture is integral to understanding and appreciating our shared history. The Elders portraits, along with their oral histories, have become part of the City of Perth Cultural Collections, enabling story sharing now and into the future. The City's Cultural Collections help us understand the history of Boorloo (Perth) and connect us to Perth's multicultural community of today.
A glimpse into the Elders oral histories is also available in the City's cultural heritage podcast 'Untold Stories of Perth' with a new episode to be released in conjunction with the exhibition: http://untoldstories.perth.wa.gov.au/
The City is honoured to be able to recognise the Bridyas by commissioning respected photographer Eva Fernandez to capture their portraits. The exhibition is free and forms part of the City's 2020 NAIDOC week celebrations.
Daily November – December, 10:30am
(Visited 49 times, 1 visits today)